Apple cake MM 6
Posted on 2006.11.18 at 09:13
Current Mood:
busy
Monthly Mingle
time again, well, it was Thursday, but with a bit of luck I can still participate. So far I have not missed one Monthly Mingle organized by Meeta from
What's for lunch honey
, and somehow my postings are around her events. And my little spare time has become even more rare. This big dream of mine to write a cookbook, well I don't think I ever will. I didn't get around writing it when I was freelancing, less chance I will write it now that I am full time working again and have a commute of 160 km every day. My fridge is full with vegetables I harvested before I started my new job, and with home made food I prepared in large quantities (chili con carne, moussaka, lasagna, boeuf bourguignon, soup), so I will not go hungry. It is just that cooking is back to simple things and a nice meal on Saturday evening. And soup pictures ..... well maybe I should try it.
My new job is great, the ambiance is great and I am happy a girl. I am traveling next week to Indonesia for 10 days, after 32 years am going back to the country I spent most of my primary school. I will not have time to go sightseeing, I don't mind. I am thinking of colours, smells, herbs, spices, fruits, food food and food. I am looking forward to a real Indonesian meal. And I am looking forward to visiting the pasar (market) of blok M. No idea why it is called blok M, but somehow this pasar is still in my head. I am bringing my camera so upon return shall post some nice food pictures.
So back to the theme of MM 6 "Say thanks". This is an easy one, I dedicate today's entry to my mum. She always stood behind me, always believed in me. In '98 when I wanted to do my doctoral degree (at 34 years age) at first she was not convinced that I really needed that. I think she rather wanted me to get married. But after a few talks on the phone, she said: "Well, if this will make you happy, than you should do it".
The years I freelanced, she preferred I had a "real" job, but I told her everytime: "This is good, after having studied and worked for soo many years at the same time, and after my last job which was absolutely a great job but in a very unfriendly environment, I am happy not to be lived by my job, but live a real life, have very interesting work, and have time for myself". Secretely, well it wasn't that secretely, she was worried, but at the same time happy for me that I was doing fine. And than 8 weeks ago I started my new full time job. She was in China so I sent her an sms to tell her I got the job, and immediately I got an sms back to congratulate me. So today I say "Thanks mum for always standing behind me".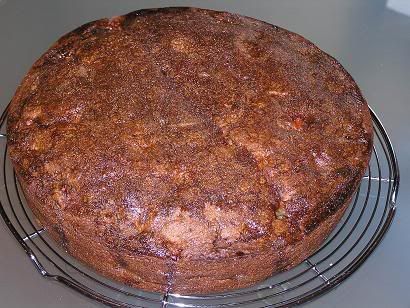 So why this applecake. First of all it is a great recipe, so maybe she will try to make it herself as well. The last few years my mum is into baking again. When we were kids she used to make cakes. I remember the making of the cake, but not eating the cake, I was never much of a cake fan, well the eating part I couldn't care for. But the making is where all the fun is. And for her birthday she got this new mixer. So mum get your baking gear ready and try this recipe.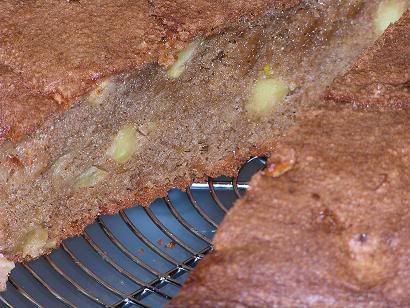 Ingredients:
1 1/2 cup vegetable oil, 1 1/2 cup sugar, 3 eggs, 2 cups flour, 1/8 teaspoon clove (powder), 1 1/4 teaspoon cinnamon (powder), 1/4 teaspoon nutmeg (powder), 1 teaspoon baking soda, 3/4 teaspoon salt, 1 cup chestnut flour, 4 apples in chunks, 3 tablespoons rum
Preparation:
Mix the oil and the sugar. Add the eggs one by one and mix well.
Mix the flour with the spices, mix in the chestnut flour.
Add the flour mixture to the oil/sugar/eggs mixture and mix well.
Stir in the apple chunks with the rum.
Pour in a round cake pan (buttered).
In the oven for one hour at 160 C or 325 F.