Tajine - Eintopf
Posted on 2009.01.26 at 20:47
Current Mood:
content
I am back to blogging and nothing is more fun than to participate in events. For me it works great cause it "pushes" me to blog I guess. After many months of absence where I continued cooking, buying cookbooks and kitchen gadgets, it was time to not only start again but also try to keep it up.
One of the blogs I kept reading was Zorra's
kochtopf or 1xumruhren bitte
. I "met" her through bread baking day, and me being a weekly bread-baker could not resist in participating. Many of her entries are in German, but as I read and speak German I manage. However writing is something else and as I don't want to make any one suffer I stick to English.

Theme for this month is "Eintopf", one-dish, and these are dishes to my hart. Boring? Absolutely not, there are so many varieties and possibilities.

Despite my husband thinking and saying that I have way too many kitchen things, I don't agree. Some collect shoes, some collect handbags (ehh me too), and I have this thing with kitchen items/gadgets/cookbooks/electrical tools. So when my mother in law asked what I wanted for Christmas I answered "une jeu de boules, but if you don't like to buy that I don't mind a tajine". P did not agree, but clearly his mum did as for Christmas she bought me an electrical tajine. I did not know electric version exists, but they are great.


In the English manual it is called a slow cooker - so this opens up a new world for me and I no longer have to delete the slow cooker recipes that I get regularly by e-mail. The tajine came with a little booklet with recipes, so I could start right away. Well in theory yes, but shopping was needed first.
The first recipe (and so far the only one) is the Spring lamb tajine. Not sure if the "spring" relates to the lamb or the vegetables that I am to use. So of I go to the supermarket, buy the necessary ingredients (or so I think) and once back home started cooking, only to realize that I did not buy all that the recipe asked for, but than that was not the first time. I used frozen vegetables (except for the potatoes) as I grow many of my own vegetables and freeze them for use in winter.
Ingredients
1 kg lamb cut in pieces but I used lamb-chops
170 gr haricot verts - I just added and did not weigh them
400 gr potatoes
6 artichoke harts - I used one tin
350 gr beans - I used courgette - indeed something completely different but it worked well
1 garlic
1 teaspoon cumin
curcuma
1 teaspoon paprika powder (sweet)
1 teaspoon ginger
2 soup spoons of lemon juice
coriander seeds
olive oil
salt
Preparation
Heat the olive oil in a pan and brown the lamb-chops
Transfer them to the tajine and add all the garlic, ginger and curcuma. Add 2 dl of water and mix. Turn on the tajine and let it simmer for 2 hours
Meanwhile prepare the vegetables. I mixed all the frozen vegetables and defrosted/heated them in a pan while using some olive oil, and added the potatoes.
After the two hours of cooking, remove the lid and add the vegetable mixture, the paprika powder, cumin, lemon juice and coriander. Mix and let simmer for another hour.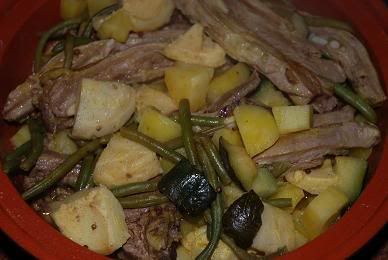 Delicious to eat with bread. Well you can of course also cook semolina with it but than it is not a one-dish anymore.