Feta bread - Bread baking day
Posted on 2009.02.01 at 16:20
Current Mood:
calm
I found a new flour supplier - a friend at the scuba diving club makes his own bread and buys his bread at a real bread mill. And he was willing to buy me some next time he would be going. So yesterday he brought me 5 kg of "farine pain 6 cereales et 5 graines", and it looks fantastic. I received the flour right in time for the bread baking day event of Zorra at
1 x umrühren bitte
. This months BBD is hosted by
High on the Hog, and the theme
is Bread with cheese
.
Not a difficult theme as I love bread and I love cheese. I decided to make a feta bread and ended up making two breads (from 500 gr flour), one feta and one feta and sun-dried tomatoes.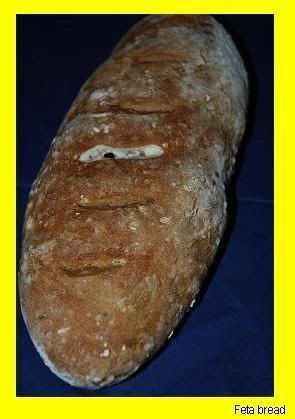 I mixed white flour through the multicereal and 5 grain flour, and added olive oil. I used the bread machine to kneed the dough and for the first raise.
Ingredients
320 ml water
450 gr multi cereal flour
60 gr white flour
2 tablespoons olive oil
1 teaspoon salt
1 sachet of dried yeast
150 fr fetah
sun dried tomatoes cut in small pieces
Preparation
Put all the ingredients in the bowl of the bread machine. After the dough making cycle is finished remove the dough. Kneed a little with your hands and divide in two parts. Make a flat bread, cover one with the feta and the second one with the mixture of feta and sund dried tomatoes. Roll up the breads. Let rise for 45 minutes in a warm place. Bake in the oven (200 degrees) for 40 minutes. Let them cool down and enjoy.
The bread is delicious and am looking forward to this evening's meal as well as my lunch tomorrow.