Posted on 2009.03.08 at 20:45
Current Mood:
relaxed
It is monthly mingle time again and this time we are taking a journey to the
Caribbean
. At first I thought: well that will be an easy one I can make a yambalaya, after all that is a real Caribbean dish. But than .... mmmm .... not very original, delicious yes, but not that original. Even if I have given mine a twist. This month's mingle is organized by my dear friend Meeta from
What's for Lunch Honey
and this month Cynthia from
Tastes Like Home
is helping out.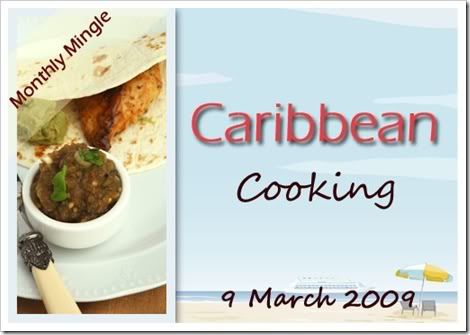 So than whatshould I cook? And I went back in to my memories - Haiti, Conches ..... in 1994 and 1995 I was in Haiti and I had great food. The country was quite in a crisis, embargo, military invasion, the place not the safest place to be, but the food, to lick your fingers. It always amazed me how in spite of all the misery the food could be that good.
Barbados - I was there in 1995 - I remember our diners on the beach, music - and I remember my last evening. For three days we had worked very hard, long days, so the last evening after we were done with the beta testing of the software package we were working on - yes party time. We danced and danced and when I finally went back to the hotel I had only 2 hours left before I had to get up again - so why bother go to bed. I packed my bags and went to the beach - swam around - back to the hotel, shower, off to the airport. So yes I remember the ambiance but not what I ate.
I was in Cuba in 1994 but the food was not that good - there was not much, the shops were empty, and the food in the hotel was quite bad - I have a great cookbook Cuban cooking with delicious recipes, but unfortunately the ingredients were missing in Havana. Great music though, and I had loads of fun with the participants from the course. And well yes, the rum was very good.
In 1995 I was in St Kitts, for a simulation exercise "Tradewinds", the island was hit by an earthquake - well that was what the exercise was about - and everyone participated in how the island would respond. In the course of the three days different events happened and the objective was to see who would do what, who would be responsible for what (hospital preparedness, supplies, etc). I remember I learned a lot, enjoyed my last afternoon off during which I bought some great placemats, but no recollection of the food. Well also because we did not eat much, we were so busy that food was the last thing on our mind.
In the end I decided to make a chicken boucané. I tried to find the translation of the word boucané but did not manage. Boucaner is a preservation technique for game and especially for fowl and fish. It consists of drying the food, that has been seasoned with spices, on a fire. This "boucanage" gives a special flavour to the dishes, and when done on a woodfire, the taste is the best. An oven or bbq works also, but the taste will be different.
As happens lately more often I forget to buy ingredients, but than I always have other ingredients that can be used also. For example, I have always have a good stock of coconut milk, or coconut paste, but to my astonishment when I was cooking this Sunday evening I had none left. Crisis! How am I going to make my chicken boucané without coconut milk. I searched everywhere and to my delight found shredded unsweetened coconut. Saved:-)
This dish is originally from French Guyana, and is strongly influenced by the Creole kitchen.
Ingredients
1 chicken boucané
bacon
1 kg spicy cucumbers (which I did not have so replaced them with courgettes)
2 tomatoes
1 small tin of tomato paste
1 bottle of coconut milk (I used 100 gr of shredded unsweetened coconut
onions, garlic
bouquet garni (a mix of oregano, thyme, laurier)
oil
For the chicken boucané
5 - 6 cloves of garlic
3 shallots
3 limes
1 chili pepper
thyme, salt, pepper
Preparation
Cut the chicken in pieces. Marinade the chicken for at least 12 hours in a mix of the garlic, shallots, lime juice, chili pepper, thyme, salt and pepper
The next day grill the chicken in the oven until the pieces are golden and well cooked
Cut the onion in slices, cut the courgettes in pieces. Fry the onions in a pan, add the tomatoes cut in pieces, the courgettes pieces, the bacon in pieces, the bouquet garni. Let it cook for a few minutes and add the tomato paste.
Let the vegetables cook for 15 minutes. Add the shredded coconut with 1 cup of water (or more). Add the chicken and let it all simmer for at least 5 minutes.
Serve with rice.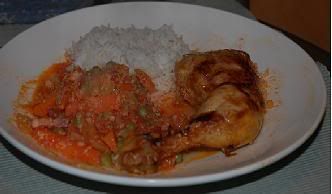 Verdict: Delicious!