Fresh and Local - Courgette Chutney
Posted on 2006.07.27 at 11:36
Current Mood:
creative
The great thing about participating in foodblog events is the thinking process: what am I going to make this time, especially now that I have actually a few days off. Well not that I am on holidays (not yet) but I have finished a first draft of a manual I am writing and am waiting for feedback. What better way to pass the waiting time than to jump in my vegetable garden, harvest what is ready to be eaten and spent time thinking what to prepare that fits into the theme.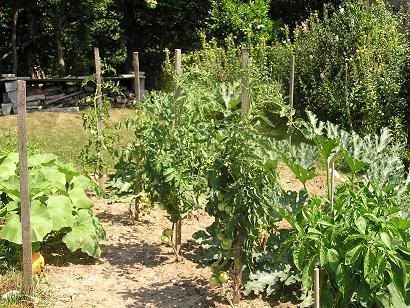 Barbara from
Tigers & Strawberries,
gave this month's The spice is right # 5 the theme
Fresh and Local
.
We are to use local spices and other ingredients to cook up something. For this event it is easy, I grow my own vegetables and chillies. France, with all its overseas departments and territories called DOM (Departement Outre Mer) and TOM (Territoire Outre Mer), has a variety of "local" products. Whatever is produced in a DOM is considered "local", including sugar, bananas and many spices. I sometimes forget about this, since they are on the other side of the globe, countries, oh not a country, ok a department, such as La Reunion (close to Africa), and Martinique (in the Caribbean).
For this month's event I present courgette (zucchini) chutney. The courgettes and tomatoes are grown in my own garden (how local can you go), the spices I use are French as well as are the sugar and the onions. Unfortunately my own chillies are not yet ready, so I substituted them with chili powder. My next batch of chutney will include my home grown chillies, but that will not be for this round unfortunately.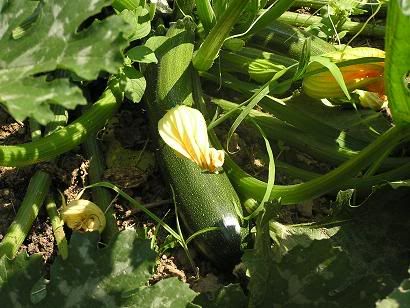 I had made this last year, but found it too sweet. This year I altered the recipe, dutifully writing everything down, and halved the amount of sugar. The original recipe comes from a little English cookbook I bought in 1990 whilst living in Pakistan, "Preserves & Pickles" by Heather Lambert. Back than I worked in the North West Frontier Province in a women's project were we taught preservation methods for fruits and vegetables as well as kitchen gardening methods to women. The trained women in turn would train women in their villages and surroundings. So of course when I saw this booklet in a bookshop I just had to buy it.
Ingredients:
1.3 kg courgettes, 2 tomatoes, 3 onions, 150 gr sultanas, 250 gr sugar, 500 ml vinegar (I used 250 ml cider vinegar, 100 red wine vinegar, 150 white wine vinegar with estragon), 1,5 table spoons salt 2 teaspoons pepper corns (mixture of 5 different peppers), 1 teaspoon coriander, one very full teaspoon chili powder, 1/2 teaspoon cinnamon
Preparation:
Cut or slice the courgette, put in a colander, sprinkle with the salt. Leave for 2 hours, then rinse.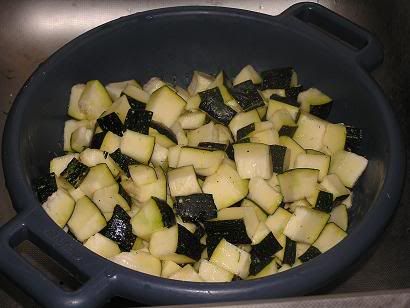 Chop the tomatoes and onion. Add all ingredients in a pan, stirring until the sugar has dissolved. Simmer until thickened (it took me approximately 1,5 hours).
Poor into sterilized jars and seal. I leave my jars in hot water with soda cristals for at least 15 minutes. I rinse them with hot water and put them up side down until I use them.
The chutney needs to stand for a few weeks before eating. It is delicious with omelets, meat, but also on a cheese sandwich.