Meeta, full of great ideas, organized a bloggers post card sending event, so to say. See her website What's for lunch Honey to see more about this event.

I wanted to send a postcard from the little village I live in the Alpes. But they don't sell them anymore, nor will they reorder them, as 10,000 is the minimum number, and we are only 2000 habitants.

So instead I sent a picture of the region.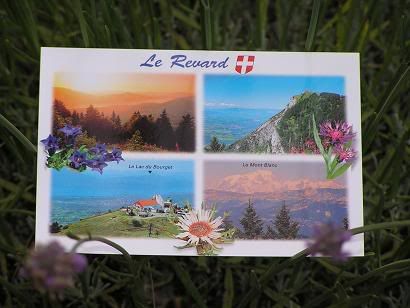 If I go for a walk on a clear day I can see the Mont Blanc. The Lac du Bourget is the biggest French lake (Lac Leman is bigger but shared with Switzerland). It is in this lake that I dive, yes temperatures are low, at 40 m it is 5 degrees C.

Food specialties are Fondue, Tartiflette, diots, and one of my favourites Raclette. In winter more about these recipes as they are specific winter dishes.